On Thursday 22nd October 2020 at the 18th annual Comms National Awards, Akixi was announced the winner of Best Call Management Solution 2020.
The awards ceremony was streamed live from the London Marriott Hotel Grosvenor Square and hosted by TV and radio presenter Colin Murray alongside the Comms Dealer team and event sponsors, with teams of finalists and industry peers watching from offices and homes online.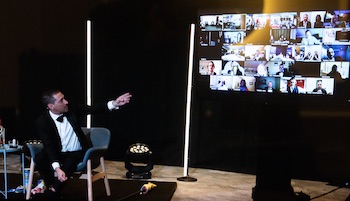 Head of Marketing at Akixi, Hilary King, commented, "This is a fantastic result for the whole team at Akixi. We have made huge strides over the last year with improved channel support and product innovation, and continue to firmly cement our position in the market. To have these efforts and successes acknowledged by such a distinguished and highly talented panel of judges is the icing on the cake!"
If you are interested in finding out more about Akixi's reporting and analytics solutions, contact the team today and we will be happy to answer any questions you have. Alternatively, find the ideal Akixi solution within seconds by answering a few questions on our Product Selector Tool.
Trial Akixi 3000 for yourself when you book a free Akixi online demo.